2020 Board Elections + Spring Membership Meeting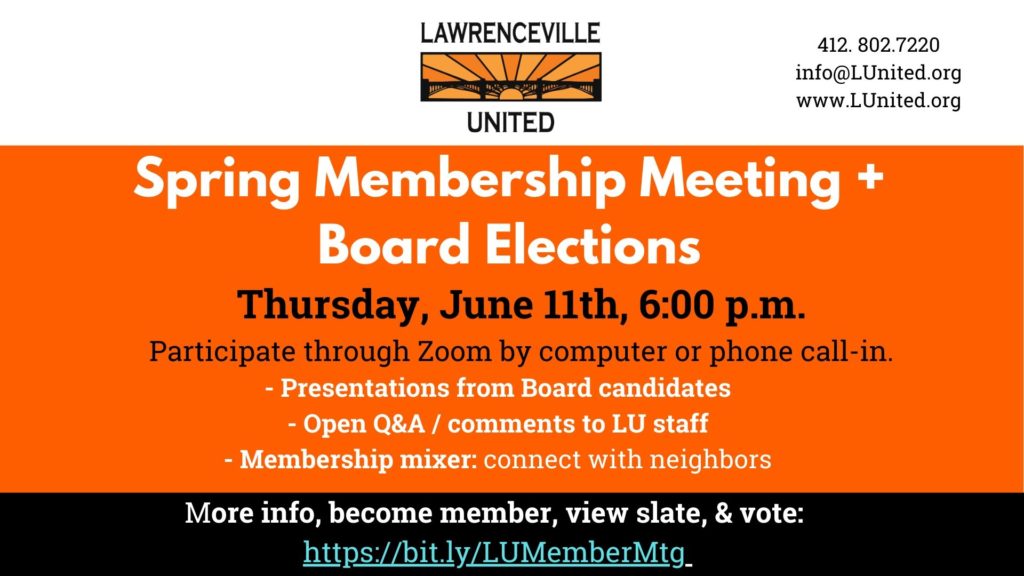 Please join us for our annual Spring Membership Meeting & Board Elections on Thursday, June 11th at 6 p.m. The agenda will include:
Board Elections: Each of the 14 candidates for the Board will share a few words about who they are and why they want to be on the Board.
Open Q&A/comments: LU staff will respond to any questions, comments, and input from the community.
Membership mixer: People participating by Zoom or by phone will break out into smaller groups to get to know each other and enjoy some neighborly company. BYOB, if you so choose!
More information about the meeting:
How to participate by Zoom: Due to COVID-19, we will continue to host our meetings virtually until further notice. We encourage you to participate by Zoom via computer or phone, as that will allow us the most amount of two-way dialogue. All LU active members will receive an invitation with instructions on how to participate by computer and how to call in by phone.
How to become a member, or renew your membership: If you need to renew your membership, or have never been a member of LU, you can renew/become a member online here, do it over the phone by calling 412-802-7220, or request to have a membership application mailed to you. Given COVID-19 and the economic uncertainty of so many, we are waiving membership fees this year for anyone who needs it. Any questions, please let us know.
How to participate by Facebook: We'll also broadcast the meeting via Facebook Live, which you can access on our Facebook page (www.facebook.com/LawrencevilleUnited/). Please note that if you join by Facebook, you'll only be able to use the comments box to participate, and we do plan on having some break-out groups later, so you won't be able to participate in that portion.
How to view later if you're unavailable: We'll record the first two portions of the agenda and share them on our website and e-newsletter for folks who missed the meeting. UPDATE: View the Zoom recording here, or the Facebook Live video here.
How to vote in the Board elections: If your membership is current, you can vote for candidates for the Board of Directors by: (1) returning a ballot by mail to 118 52nd Street, Suite 2026, Pittsburgh, PA 15201; or (2) voting online via THIS FORM.

The deadline to vote is Wednesday, June 17th

. No votes received after June 17th will be accepted.
Slate of Candidates for LU Board of Directors Click on any candidate's name to review their bio. Asterisks*** next to the name signify that this candidate is a current Board member running for re-election. Please note that two candidates on the paper ballot have asked to be removed from the ballot: Jen Bohland-Anhalt and Heather Mallak.
FAQs:
What is the Board? The Board of Directors is the governing body of LU. These volunteers set the strategic direction of the organization, evaluate the performance of the Executive Director, and make decisions about key positions.
How is the Board elected? LU's Board of Directors are elected through a democratic process. Each year, all eligible candidates are put on a slate and elected by our membership.
Who is eligible to be an LU member? Anyone who resides in Lawrenceville, or has resided in Lawrenceville for more than 365 days in the last 15 years.
What Board positions are available: There are two kinds of Board positions: by-ward seats (which are based on each neighborhood to ensure geographic diversity of the Board) and at-large seats (which are open to any eligible member). Each Board member serves a 2-year term and elections are staggered, so roughly half of our Board seats are up for election each year. Nine (9) at-large seats are up for election in 2020. Additionally, there are currently two (2) vacancies in the by-ward seats: one for the 6th Ward (Lower Lawrenceville) and one for the 10th Ward (Upper Lawrenceville). There are 14 candidates (including 6 current Board members running for re-election) in the current slate.