2014 Lawrenceville Summer Celebration Day Camp IS OPEN FOR REGISTRATION!
SUMMER FUN FOR LAWRENCEVILLE YOUTH
Lawrenceville Summer Celebration Day Camp
2014 marks the 7th season of Lawrenceville United's Summer Celebration Day Camp.  As we have noted in the past, we are working to make this camp a strong, stable asset for the Lawrenceville community.  In order to do so, we are continuing to work with many great partners and developing a strong partnership with the Estelle S. Campbell Boys & Girls Club.  Early registration is encouraged since camp is limited to eighty participants.
Camp Improvements for 2014: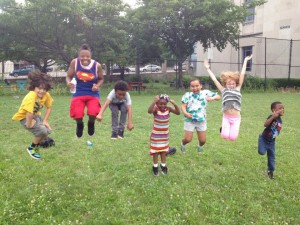 Camp will primarily take place at the Estelle S. Campbell Boys & Girls Club (4600 Butler Street)

With specific programs and activities still being held at Pittsburgh Arsenal 6-8 (220 40th Street)

Camp registration will be $50 per child per week BUT Boys & Girls Club will be coordinating registration and offering scholarships, determinant on income and number of dependents.
Please contact Davis Roddy 412.682.4013 at the Estelle S. Campbell Boys & Girls Club for Scholarship information.
Camp is open not only for Lawrenceville residents, but any residents from adjacent neighborhoods (Morningside, Stanton Heights, Garfield, Bloomfield, Polish Hill, and the Strip District).
Camp program hours are 9:30 a.m. – 3:30 p.m. with drop off time from 9:15 a.m. – 9:30 a.m. and pick-up time from 3:30 p.m. – 3:45 p.m.
New camp offering!! Early and Late Pick Up!  A pre (7:30 a.m.  - 9:15 a.m.) camp, which includes breakfast, and a post (3:45 p.m. – 5:30 p.m.) camp for those parents who can't arrive or pick up at the standard camp time for an additional fee of $20 per week per child.  A late fee may be applied for late pick up after the allotted 15 minutes.
We will host a camp orientation in early June, as well as sending out more information once registration closes.  Registration is open until May 15th, or until the camp is at capacity.
Continued Traditions:
Quality lunches and nutritional snacks, and breakfast for those in pre-camp, will be provided by Earthen Vessels Outreach daily.
Local partner agencies include Tree Pittsburgh, Reading is Fundamental, MGR Youth Empowerment, Carnegie Library of Pittsburgh – Lawrenceville, and more will be working with the campers.
Fun field trips every Friday to the Zoo, Aviary, Phipps Conservatory, and MORE!
For more information, visit: http://www.lunited.org/programs/community-engagement-restoration/youth-programming/