LIVE! in Lawrenceville Block Party 2022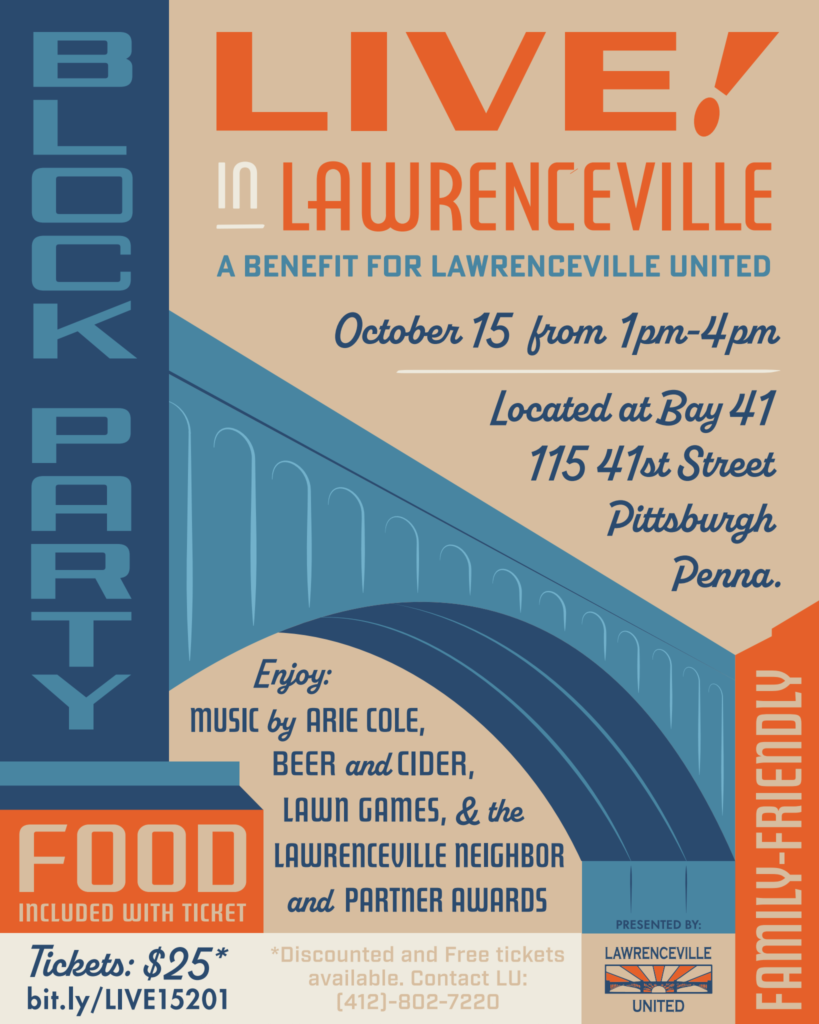 Lawrenceville United's annual fundraiser is BACK on 10/15/22 from 1-4 PM after missing two years due to the pandemic. This year, we're taking the party outdoors for an all-ages community BLOCK PARTY at Bay 41 (41st & Willow St). The event will feature:
Music by Arie Cole
Beer & cider
Local food
Lawn games
Raffle baskets
Awards for Lawrenceville "Neighbor of the Year" & "Partner of the Year"
All proceeds benefit the work of Lawrenceville United to improve and protect quality of life for all Lawrenceville residents.
General admission tickets are $25 in advance / $30 at the door. Tickets are $10 for our neighborhood "wisdom keepers" if you're an LU AdvantAGE member. Reduced/free tickets are available to residents who can't afford it. Kids get in free. Get your tickets at https://bit.ly/LIVE15201.
Nominate a "Neighbor of the Year" at https://bit.ly/LVNeighbor2022
Nominate a "Partner of the Year" at https://bit.ly/LVPartner2022
Sponsorship opportunities are available. Contact Dave at Dave@LUnited.org for more information.
Questions? Contact LU at 412-802-7220 or info@LUnited.org.