Duncan Park Update, Summer 2016
6.8.2016 Update
Project History
    Duncan Park sits at the intersection of Duncan Street and 54th, in Upper Lawrenceville. The site was decommissioned as a City of Pittsburgh park several years ago. While the City still owns the property, the "decommissioned" status means that they have no plans to make site improvements.  As part of the 
Upper Lawrenceville planning process
 that many of you took part in several years ago, residents identified
Duncan
as a potential site for permanent, shared green space, food access, and recreation opportunities for families. Since then, several organizations have been working together to plan, fundraise, and get the project moving, including 
Lawrenceville United
, 
Lawrenceville Corporation
, 
Tree Pittsburgh
, the 
Lawrenceville Tree Tenders
, and the 
Penn State Center
, along with Councilwoman Gross' office. Below, you can view the plan that was created by the Penn State Center's David Himes, with the input of residents and these organizations. It includes an orchard, rain garden, community garden beds, and playscape.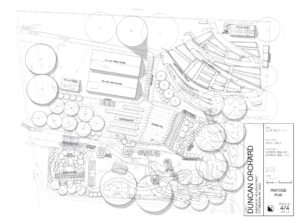 Progress
     Before planting began, the Department of Public Works removed old playground materials and regraded the site, and Pittsburgh Water and Sewer Authority restored water access so that we could attach a hose for watering trees and other plants. On April 30, 2016 thanks to a great group of volunteers led by Tree Pittsburgh, we completed the first stage of the plan: planting 25 trees in the orchard! After that, the Tree Tenders added a garden of herbs and native perennials along the 54th Street side. Feel free to stop by the Park and grab some herbs for your dinner – just take care to leave the stems and roots intact.
    Recently, we learned that PWSA will provide funding to install a rain garden on site, which will help to manage stormwater runoff from the hillside, provide a natural wildlife habitat within the park, and will include educational signage to help visitors understand the function and importance of green infrastructure. The construction of the rain garden will be a community effort, and we will invite you to join us once a date has been set. The community garden beds will also be built by volunteers, and we are hoping to have the materials donated so we can build raised beds by the fall. We are applying for grants now for the playscape – and if anyone is interested in working with us on this, we'd welcome the assistance.
Next Steps (aka We Need You!)
    A small group of dedicated volunteers have done much of the planning and maintenance so far, but the goal is for the park to be a shared asset that is cared for and enjoyed by all nearby residents. To that end, we will hold a monthly working meeting on site, to share
updates
and to take care of weeding, watering, pruning, and any other maintenance needed. You can sign up using this 
link
, or you can just show up on the 
4th Monday of each month at 6pm
. Kids welcome! If you're interested in helping in other ways, such as regular watering, soliciting donations, leading a work day, helping with grant-writing, documenting the changes on-site, recruiting other neighbors, (or insert your idea here), let me know! This Park is for all of us, so feel free to share any ideas or suggestions. Please pass along this
update
to any friends and neighbors that may be interested in getting involved.
   I know that these improvements have been long-awaited, so thank you for being patient. I hope you will join with us in making
Duncan
Park a wonderful, sustainable site for the community to enjoy!
Helen Ewing
Community Engagement & Program Manager