Fall 2020 LU Membership Meeting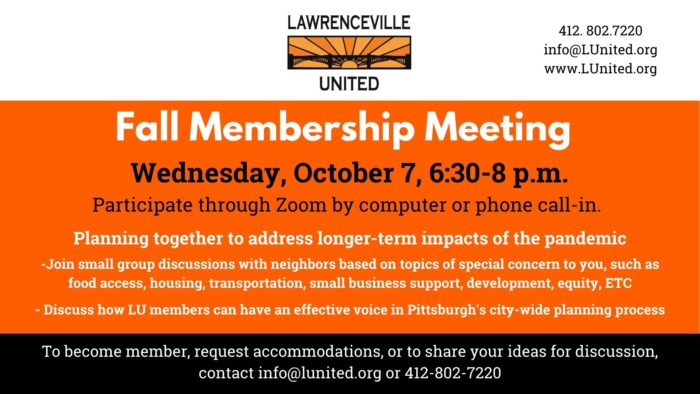 Join us for LU's fall membership meeting on Wednesday, October 7th, at 6:30 p.m. There are three ways to participate (no RSVP or password necessary!):
We'll share some questions (and invite your own!) on how we can plan together to address the longer-term impacts of the COVID-19 pandemic. During the meeting we'll be breaking out into smaller discussion groups based on your main topics of interest, which could include things like food access, transportation, housing, small business support, development, equity, care for our elder wisdom keepers, etc. We invite your ideas! Please send us your suggestions for breakout room discussion topics to info@lunited.org!
We will also be discussing how we as Lawrenceville residents and LU members can most effectively participate in Pittsburgh's city-wide planning process, now being carried out through online processes and platforms such as EngagePGH – we want to make sure our neighborhood's voice is heard.
Please let us know if you need any accommodations to help make participating easier by contacting us at 412-802-7220 or info@lunited.org!