BIG WORK DAY @ Duncan Park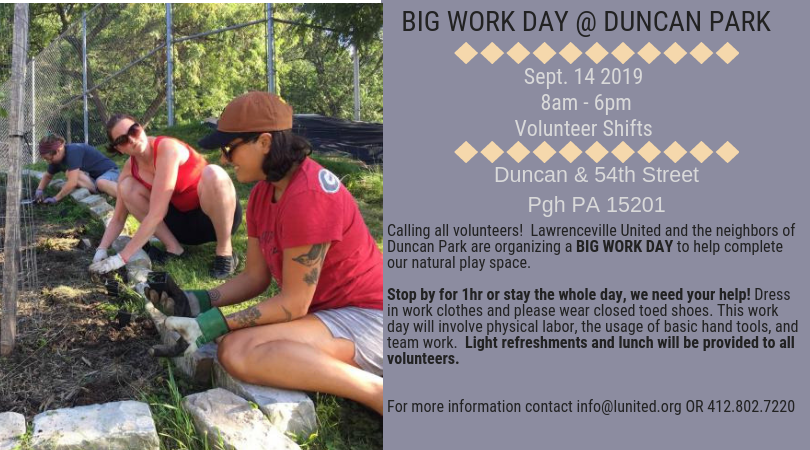 Calling all volunteers!
LU, Tree Pittsburgh: Lawrenceville Tree Tenders, and the neighbors of Duncan Park are organizing a BIG WORK DAY. This work day will help push the park to completion and provide a brand new natural play-space in the neighborhood.
Stay for the entire day or pick a shift to stop by and lend a hand. Dress in work clothes, bring a pair of gloves, and please wear closed toed shoes. This work day will involve physical labor, the usage of basic hand tools, and team work. All students under the age of 18 must be accompanied by an adult.
Please contact Lawrenceville United info@lunited.org if you have any questions. Water, light snacks, and lunch will be provided to all volunteers.
Sign up via the Pittsburgh Cares site: https://buff.ly/2Zo4vXH
Volunteer Shifts:
8am – 10am
10am – 1pm
1pm – 4pm
4pm – 6pm
Task will include:
Spreading Gravel
Spreading Woodchips
Spreading Topsoil
General Landscaping
Weeding
Planting