The 75th Annual Lawrenceville Independence Day Celebration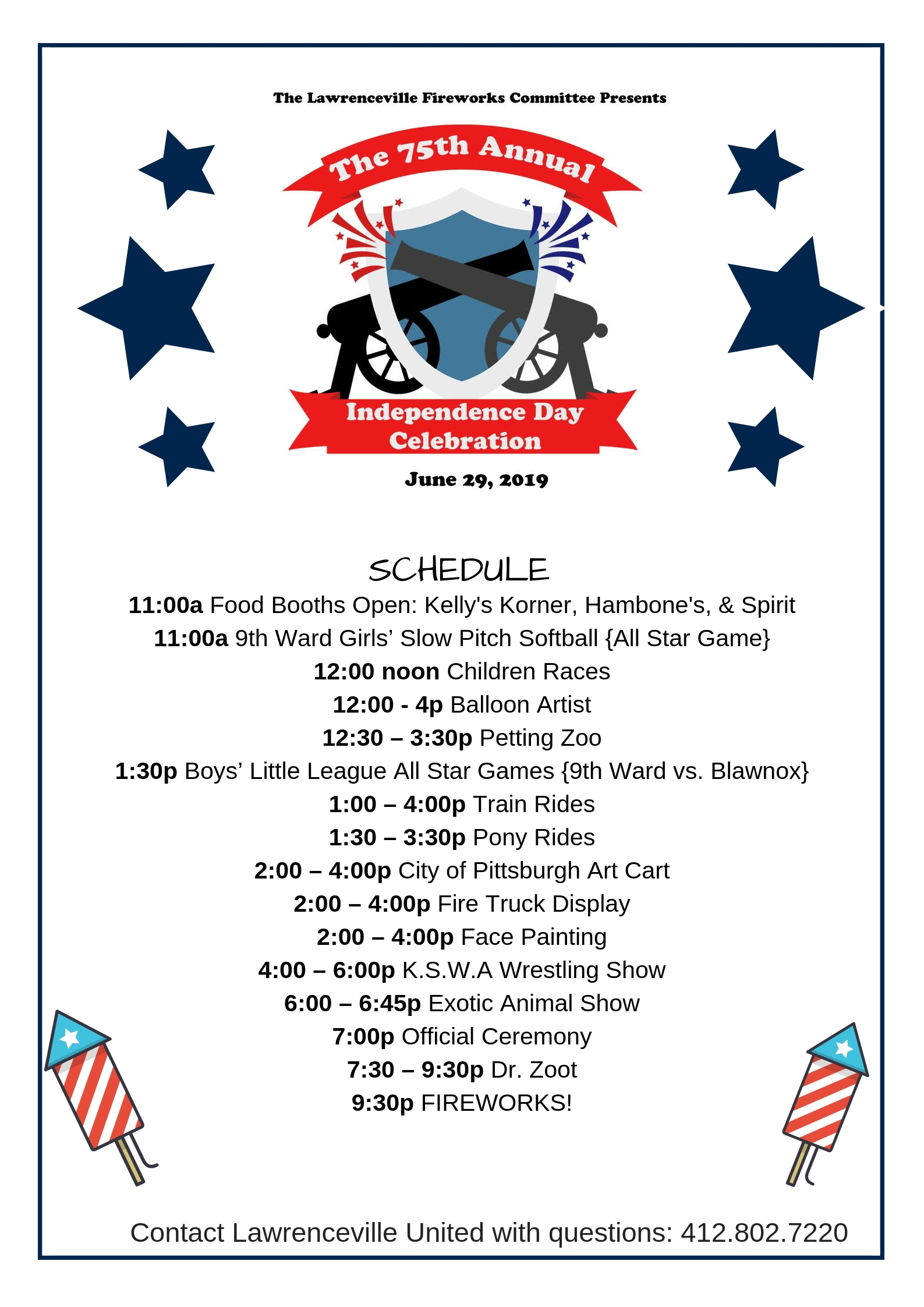 For 75 years, the neighborhood of Lawrenceville has continued to hold an Independence Day festival that is filled with fun for the whole community, inlcuding softball and baseball games, children's races, KSWA Wrestling, pony rides, a petting zoo, live music , food vendors and of course, world-class Zambelli Fireworks! This year the celebration will take place on Saturday June 29th, beginning at 11:00 a.m. in Arsenal Park.
The Lawrenceville Fireworks Committee, a group of resident volunteers, has been planning this special day for months.              We hope you join us for the festivities!
The schedule for the day is as follows:
11:00a | Food Booths Open: Kelly's Korner, Hambone's, Spirit
11:15a | 9th Ward Girls' Slow Pitch Softball
12:00 noon | Children's Races
12 – 4p | Balloon Artist
12:30 – 3:30p | Barnyard Petting Zoo
1:15p | Boys' Little League All Star Games
1:00 – 4:00p | Train Rides
1:30 – 3:30p | Pony Rides
2:00 – 4:00p | Fire Truck Display
2:00 – 4:00p | Face Painting
4:00 – 6:00p | KSWA Wrestling
6:00 – 6:45p | Exotic Animal Show
7:00p | Official Ceremony
7:30 – 9:30p | Dr. Zoot
9:30p | FIREWORKS!