2022 LU Board Elections & Spring Membership Meeting
The LU Spring Membership Meeting & Board Elections was held virtually on Wednesday, June 1st at 6:30 p.m. You can watch the recording of the meeting here or via Facebook here.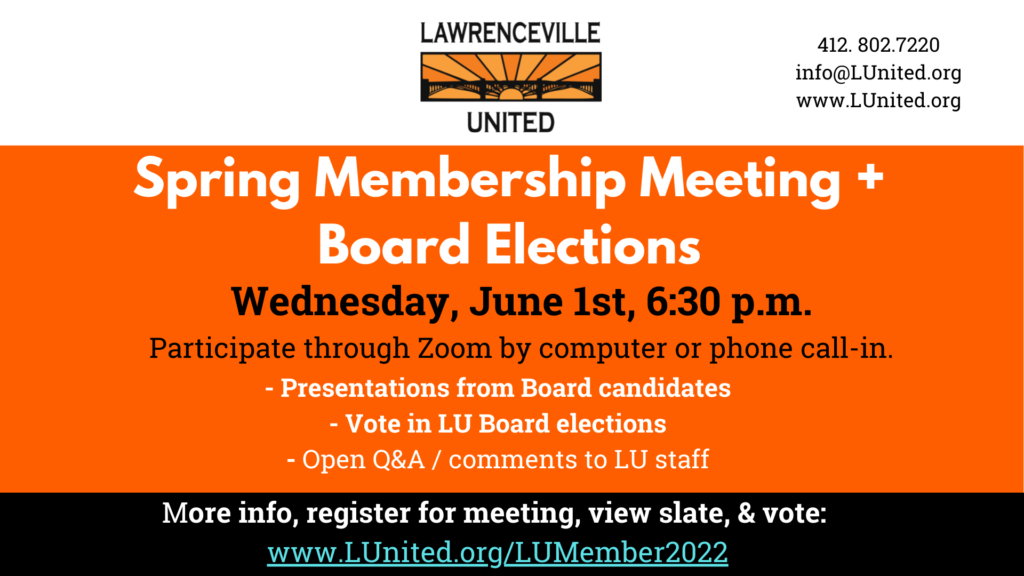 More information about the meeting:
How to become a member, or renew your membership: If you need to renew your membership, or have never been a member of LU, you can renew/become a member online here, do it over the phone by calling 412-802-7220, or request to have a membership application mailed to you. We are continuing to offer waived membership fees this year for anyone who needs it. Any questions, please let us know.
How to vote in the Board elections: If your membership is current, you can vote for candidates for the Board of Directors by: (1) returning a ballot by mail to 118 52nd Street, Suite 2026, Pittsburgh, PA 15201; or (2) voting online via THIS FORM. The deadline to vote is Wednesday, June 15th. No votes received after June 15th will be accepted.
Slate of Candidates for LU Board of Directors Click on any candidate's name below to review their Board application. Asterisks*** next to the name signify that this candidate is already current Board member running for re-election.
At-Large Candidates (Choose Nine) – click link to read their bios / applications.
Vote for candidates using THIS FORM.
FAQs:
What is the Board? The Board of Directors is the governing body of LU. These volunteers set the strategic direction of the organization, evaluate the performance of the Executive Director, and make decisions about key positions.
How is the Board elected? LU's Board of Directors are elected through a democratic process. Each year, all eligible candidates are put on a slate and elected by our membership.
Who is eligible to be an LU member? Any member in good standing above the age of 18 who resides in Lawrenceville, or has resided in Lawrenceville for more than 365 days in the last 15 years.
What Board positions are available: There are two kinds of Board positions: by-ward seats (which are based on each neighborhood to ensure geographic diversity of the Board) and at-large seats (which are open to any eligible member). Each Board member serves a 2-year term and elections are staggered, so roughly half of our Board seats are up for election each year. Nine (9) at-large seats are up for election in 2022. There are 13 candidates (including 5 current Board members running for re-election) in the current slate.